Description
Features
Product Info
Reviews
Guarantees
Original Black Stash Box Features:
Design Features:
Crafted, display-quality wood construction
Durable glossy lacquer finish
Choice of clean black or 2 vibrant decal designs
Customize the compartment with removable dividers
Two strong lid magnets for tight seal
This Box Includes:
Premium glass jar with freshness seal bamboo lid
Precision 4-piece weed grinder with kief catcher & shovel
Dimensions: 7.5″ x 6″ x 4″
The Original Black Stash Box Features:
We're very pleased to carry this affordable and very popular line of Hakuna Original Black Stash Box items.
The craftsmen at Hakuna create this furniture-quality stash box out of high-quality wood and build it to last a lifetime. Once they finish shaping the box to its final minimalist form, they coat it with multiple layers of glossy black lacquer.
Then they finish it with several layers of semi-gloss varnish.
Also, they designed the inside of this original black stash box to be modular using 2 removable dividers which you can organize into compartments to arrange as you wish.
Or, you can remove them to create one open space for storing your secret stash goodies.
A Classy Display Piece
So once you set your goodies in, close the lid and put it up on your shelf, The original black stash box becomes a classy, polished display piece that quietly holds your secret stash.
Which makes these stash boxes perfect for you to keep your herb, edibles, and accessories available and organized yet out of sight.
Your Herb is Perishable
Like any other plant matter, your herb will eventually break down. Unless someone grows, harvests and stores herb perfectly, it will lose its potency over time.
But as a typical herb consumer, the only part you have any control over is how you store your stash of cannabis.
After you bring it home, the three main culprits for herb going bad: exposure to moisture, heat, and light.
Excess moisture will cause your bud to grow mold and mildew – then all you can do is toss it.
Heat and light will make THC slowly breaks down to form CBN (which actually has medicinal values, but won't get you buzzed).
If you've ever tried old herb, the one thing you'll remember most is how harsh it was – like puffing sandpaper.
But even if your goal is to make edibles, you will want to be like any good chef and use herb that's still good.
The Best Way To Store Your Herb
Simply put, the better you store your cannabis, the longer it will last. And the longer it lasts, the more money you'll save.
That's what make getting the original black stash box to protect your expensive cannabis such a great investment.
Here's an excellent article from Leafly on how to know your herb has gone bad. Your best option for storage is simply to keep your herb in an air-tight container and in dark, cool and dry place. And plan to use it before it starts breaking down.
The solid wood construction of this original black stash box is perfect for protecting your cannabis from moisture, light, and heat.
Of course, to keep the box cool, you must not set it where it can be exposed to any heat source or direct sunlight.
A Stash Box With Clean Design
The very clean look is possible because there is no latch or locking hardware. The lid is held closed tight by two strong magnets to help seal in that lovely herb fragrance.
So no matter why you have herb in your life, this can be your herb box, a stoner box, a medicine box, an edibles box, or simply your secret stash box.
Whatever the reason, now you can give the herb in your life a special place in your home.
Want more safety for your stash? Here's one of our locking
Signature Stash Boxes
The Original Black Stash Box Is A Perfect Gift
As a culture, we're embracing cannabis more with each passing day. To get a sense of just how mainstream the idea of legal marijuana has become, take a look at the years of extensive coverage you can find in the USA Today.
So it's likely you know at least one person who keeps a personal stash at home.
Which means after getting an Original Black Stash Box for yourself, it makes sense to also get one for that someone who would really appreciate it.
Be sure to check out all the Must-Have Accessories you'll want to have in your stash box.
---
What Our Customers Are Saying:
Shop With Confidence
We're committed to your complete satisfaction with every purchase.
That's why we back every order you place with our 100% Satisfaction Guarantee. If you have any problems with your order, let us know within 30 days and we will work to resolve it immediately – or return your purchase for your money back!
Brand
More About The Hakuna Line of Stash Box Products
More About The Hakuna Line of Stash Box Products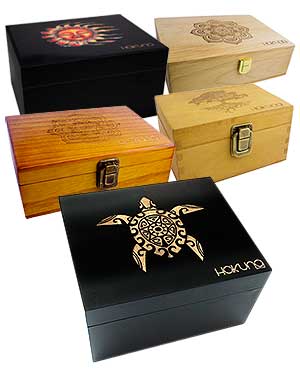 The designers at Hakuna have created a line of classy wood stash box and secret book box ideas. They are all a blend of functional and distinct.
Their wood stash boxes are furniture-quality display pieces that you can easily set out in your living area.
Or you may want something more secure like a hide-in-plain-sight book box.
These are hollow book boxes that hold your cannabis and blend in among the other books on your shelf.
A Hakuna stash box is perfect when you feel cannabis truly belongs in your life and want to bring it out of the closet.
Additional information
| | |
| --- | --- |
| Weight | 3 lbs |
| Dimensions | N/A |
| Decal Design | Summer Solstice, Doobie Dude, Original Black |